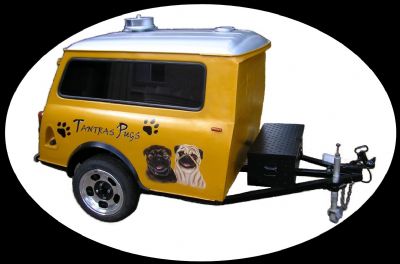 Welcome to our Pugmobile.
We first purchased the Pugmobile after it had been lying in a yard exposed to the weather for about 5 years. We took it home and stripped it back to the bare shell, cut out any rust spots and welded new plates in, re-tinted the windows for heat control, refurbished all the interior with new mesh for the cages and new mesh doors, replaced all the electricals including importing new tail lights from overseas.
We've added a custom made water tank to the chassis underneath which holds 55 litres of fresh tank water that we can use while at dog shows or in transit to places we go. We sourced a brand new pair of shockies and replaced all the bushes to ensure the dogs get a smooth and comfortable ride. We managed to get hold of a set of jelly bean mags from a mini moke, polished them up and spent nearly 3 weeks tracking down tyres that would actually fit on the rim and inside the wheel arch given the very small amount of space we had to work with.
We added a tack box to the drawbar, wheel arch flares to cover the wider tyres. We painted all the underside black, the roof silver, the body gold with silver fleck and the interior white. We had an artist come out home and airbrush the design of our stud name and portraits of the 2 dogs on the side. We cut new marine carpet for the floor inside and before we knew (after 4 months work) it it was ready to hit the road.
Since completion and it first appearing at dogs show around the place, we have had many comments and also enquiries about buying it from us or could we make a similar one for other people.
It is certainly a unique dog trailer.
A very special thanks to Alistair for all his help in making this project possible.

Click each link to view larger photo.